28 Jun

Newsletter 28/06/19
Pre-orders and new releases available online now!
It's with absolutely zero envy that I write this Glastonbury weekend newsletter… I really didn't want to go, I hate mud… So while I perform a quick rain dance, you can read on about this week's goodies…
Heading up the new releases this week is "Let's Rock" by The Black Keys. Formed in 2001, the duo, consisting of guitarist/vocalist Dan Auerbach and drummer Patrick Carney, have released 8 albums making this their 9th. The guys met aged 8/9 years old living in the same area of Akron, Ohio – hometown also to new wave legends Devo. Auerbach and Carney both have musical backgrounds. Auerbach is the cousin of guitarist Robert Quine, a "veteran of New York's avant-rock scene." Carney is the nephew of saxophonist Ralph Carney, who performed on several Tom Waits albums. Interestingly, the name 'The Black Keys' came from an artist diagnosed with schizophrenia, Alfred McMoore, that the pair knew; he would leave incoherent messages on their answering machines referring to their fathers as "black keys" (such as "D flat") when he was upset with them. "Let's Rock" comes after a 5 year hiatus in which Auerbach and Carney pursued individual projects. Patrick Carney called the album "an homage to electric guitar", and said that the band took a "simple approach" to its recording. The album's title came from a news story the band heard while recording the album. The first person in Tennessee to die by electric chair in 11 years simply said "let's rock" as their final words. This, of course, also informed the album artwork – the electric chair. Preceding single "Lo/Hi" topped Billboard's Mainstream Rock, Adult Alternative Songs, Rock Airplay, and Alternative Songs charts simultaneously, making history as the first song to reach number one on all four at once. With it's brazen blues-rock riffs and crunchy John Bonham-esque drums, "Let's Rock" looks set to be another hit for the duo. We have the limited……… (info from wikipedia)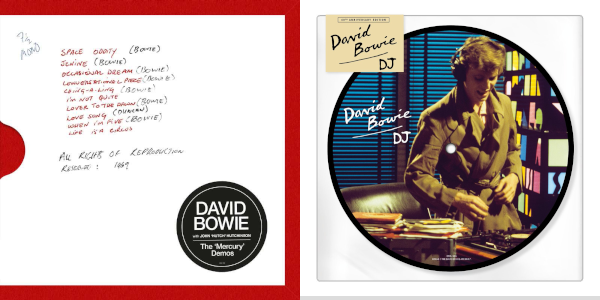 Another week and another David Bowie release… well it's actually 2 this week you lucky people. First up is the beautiful and very limited 40th anniversary picture disc 7″ "D.J. / Boys Keep Swinging". Originally released on 29th June 1979, "D.J." was the second and final single from Lodger in the UK and the follow up to "Boys Keep Swinging". The A side of this picture disc features a previously unreleased single edit of the track from the Lodger (2017 Tony Visconti Mix) included in the "A New Career In A New Town" box set. The previously unreleased version of "Boys Keep Swinging" recorded especially for The Kenny Everett Video Show features on the AA side.
Also adding to the Bowie catalogue are "The Mercury Demos". These are 10 early Bowie recordings captured live in one take to a Revox reel to reel tape machine in David's flat in spring 1969, with accompaniment from John 'Hutch' Hutchinson on guitar and vocals. The version of "Space Oddity" from the Demos, originally released with edits on the Sound & Vision box-set, is presented here in its true context for the first time. The other 9 recordings on the album are all previously unreleased. In addition to Bowie originals, the session also includes the Roger Bunn composition "Life Is A Circus" (which features in an earlier demo version on the "Clareville Grove Demos" set) and the Lesley Duncan composition "Love Song" later recorded by Elton John for his "Tumbleweed Connection" album. David's own "Conversation Piece" is announced as 'a new song' and "Janine" features a short 19 second section sung to the melody of The Beatles' "Hey Jude". Comes in a replica of the original tape box and will feature 1xLP, a print, two photo contact sheets and sleeve notes by Mark Adams.
We also have a cool new Soul Jazz compilation – "Keith Haring: The World Of Keith Haring". A collaboration between the Tate Liverpool art gallery and record label Soul Jazz, this triple vinyl (plus indies only bonus 7") captures the musical milieu that the celebrated pop artist Haring worked in (i.e. 80s NYC). The art of Keith Haring is today one of the most recognisable of any visual artists of his generation, defining 1980s New York during an intense period when downtown artists and musicians collaborated like never before. Haring's musical inspiration took in the punk/dance downtown sounds of clubs like The Mudd Club, underground disco at Larry Levan's Paradise Garage, as well as the early days of hip hop and electro. Features artists such as Talking Heads, Sylvester, Yoko Ono, Larry Levan and Fab 5 Freddy
The Rolling Stones "Rock And Roll Circus" sees a release this week. The Rock and Roll Circus was a concert show organised by the Rolling Stones in December 1968. Long considered the "Holy Grail" of rock films, this two-day event featured circus fire-eaters, acrobats and clowns alongside extraordinary live performances by The Who, Jethro Tull, Taj Mahal, Marianne Faithfull, The Dirty Mac Band (John Lennon, Eric Clapton, Mitch Mitchell & Keith Richards), Yoko Ono and The Rolling Stones. Filmed before a live audience at a North London TV studio in 1968 but never aired, it is now released for the first time on vinyl, as well as a 2 CD set.
Also out this week: Reissue action from Iggy Pop. "Zombie Birdhouse", Iggy's 6th solo album, originally released in 1982 and produced by Blondie's Chris Stein has been remastered and expanded with a bonus track that features vocals from Debbie Harry. On limited edition indies-only orange vinyl.
Otherworldly concept album from innovative producer Joe Meek "I Hear A New World" which was partially released on an EP (limited to 99 copies) in 1960 and eventually released as a whole in 1991 is reissued again this week. Amazing stuff.
"Music Sounds Better With You", the only release from the collaborative project Stardust, comprising of Thomas Bangalter from Daft Punk, Alan Braxe and vocalist Benjamin Diamond that was originally released in 1998 and reached #2 in the U.K. charts sees a reissue. This collector's edition is remastered with an etched b-side.
Keys player Joe Armon-Jones is back with new synth-jazz-funk single "Icy Roads (Stacked)" released on 10″ single on Brownswood. Dexter Gordon's "Clubhouse" and Baby Face Willette's "Face To Face", both on Blue Note resurface this week too.
On Sonic Cathedral we have the debut album "All That Ever Could Have Been" from Innsbruck-based band Molly. With nods to ambient, dreampop and even prog, and echoes of Galaxie 500, Low, Beachwood Sparks, Dungen, The Besnard Lakes, Sigur Rós and M83 – we have the double alpine clover coloured vinyl version… Parisian band Juniore deliver another great record in "En Solitaire" on very limited 7″ single.
"Step In The Arena", the classic 2nd Gang Starr LP receives a limited reissue. Guru and Premiere fans take note… Peggy Gou's "DJ Kicks" sees the light this week. An 18-track listening session that takes you straight into Peggy's living room where she plays you the formative tunes from her collection. With no genre boundaries, this looks set to be a highlight in the series… Irish singer-songwriter Perry Blakereturns with his 7th studio album "Songs Of Praise"… Nkono Teles' "Party Beats" and Ojo Balingo's "AfroTunes: Best Of Juju II", both 80s African classics are reissued on BBE Africa…These plus tonnes more…
Pre-order goodness this week comes in the form of: Thom Yorke with a new 9 track album. "Anima" will be available on CD, black double vinyl, limited edition orange double vinyl, and a deluxe 180g heavyweight orange double vinyl which includes a 40-page book of lyrics, and drawings done in pencil by Stanley Donwood and Dr Tchock… "Wallop" the 8th album from New York City's !!! (Chk Chk Chk) is now available to pre-order… Suicide's 1977 stone cold classic debut album "Suicide" will be seeing a reissue on red vinyl… Friendly Fires are back after a more than 8 year hiatus with their 3rd album "Inflorescent" which will be released limited indies-only edition purple vinyl… Also announced this week is Trentemøller's 5th studio album "Obverse", the Danish producer's follow up to 2016's "Fixion". Double LP with one black and one white vinyl… And, of course, there are more coming in everyday…
Until next time, have a great (and muddy if you're at Glasto) weekend, 
Sister Ray